Established 1829
~ 2018-2019 Lyceum Schedule ~

Here is information on our 2018-2019 season. You can purchase individuals tickets for each program or save money by buying a season pass -- good for one household for all shows. Tickets and passes are available at the door or online.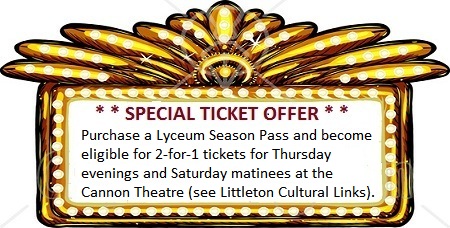 ---
Southern Rail / Bluegrass
Friday, 12 October 2018
7:30 pm

Southern Rail's performances are high-energy exuberant fun, with riveting harmonies, irrepressible humor and sparkling banjo, mandolin, and guitar solo work. Southern Rail celebrates over three decades of performing with the long awaited release of their 12th CD, "Voices in the Wind".

Purchase tickets online.
---
Magic by Scott Jameson
Friday, 9 November 2018
7:30 pm

See the show audiences are calling "Superb!", "A blast!", and "Heartwarming fun for the whole family." Join magician and juggler Scott Jameson for an extraordinary performance that will have you laughing out loud and perched on the very edge of your seat. Umbrellas will be plucked from thin air, a drawing will come to life, basketballs will be spun and juggled, and the audience will travel through time. Don't miss it!

Purchase tickets online.
---
* PLEASE NOTE CHANGE OF DATE *

Eric Jay Dolin / Pirates
Friday, 18 January 2019
7:30 pm

Come hear Eric Jay Dolin discuss his latest book about surprising tales of vicious mutineers, imperial riches, and high-seas intrigue. Set against the backdrop of the Age of Exploration, Black Flags, Blue Waters reveals the dramatic and surprising history of American piracy's "Golden Age" ― spanning the late 1600s through the early 1700s―when lawless pirates plied the coastal waters of North America and beyond. This program is co-sponsored by The Rotary Club of Littleton.

Purchase tickets online.
---
Journeys in Traditional Spiritual and Gospel Music, featuring Suzanne Buell
Friday, 8 March, 2019
7:30 pm

Lyceum offers an extraordinary music event, the history of Gospel music in America as presented by Suzanne Buell. Suzanne has been a soloist with Gospel Pops at Symphony Hall as well as a recording artist with Stax. The program will feature the music of Mavis Staples, Sister Rosetta Tharpe, Mike Foster and many others as well as some traditional spirituals. Suzanne will tell stories of the origins of this American music and we will journey with her and find how some of these songs shaped the Civil Rights movement of the 1960s and gave life to many modern rock and blues artists. Don't miss this inspiring and informative night of music and musical history!
Here is the playlist from March 8th performance. For more information go to
https://www.facebook.com/zanbuell
.
Purchase tickets online.
---
All Lyceum events begin at 7:30 pm and are held in the Littleton High School Auditorium, Littleton, MA (Directions). Click on "Ticket Information" in the navigation to learn about purchasing individual or season tickets. Tickets can now be purchased online!