Established 1829
Ticket Information: 2018 - 2019 Season
Tickets to Lyceum programs are either family passes for the entire season or individual tickets for each program. All seating is general admission and the auditorium is handicap accessible. Prices for the current season are as follows:
The Lyceum is fortunate to be able to offer these affordable prices through the financial assistance of the Abby Tuttle Fund and the Walter Clancy Fund. We are also grateful for the annual generosity of our Sponsors (see list).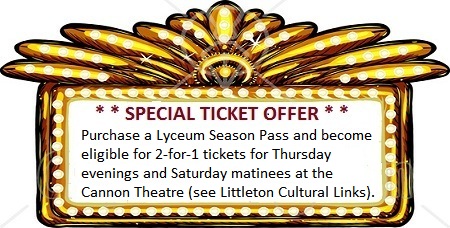 If you purchase a Lyceum season pass you are now eligible for two-for-one tickets on Thursday night performances and Saturday matinee performances at the Cannon Theatre.
Purchase Tickets Online
Lyceum patrons now have three options for purchasing Littleton Lyceum tickets:
1. Contact any of the Lyceum Committee members.
2. Purchase tickets at the door on the night of the program.
3. Purchase tickets now ONLINE safely and securely.
A small surcharge is applied to the cost of online tickets to cover the cost of the ticketing service.