Established 1829
~ 2017-2018 Lyceum Schedule ~
Here is information on our 2017-2018 season. You can purchase individuals tickets for each program or save money by buying a season pass -- good for one household for all shows. Tickets and passes are available at the door or
online
beginning around mid-summer.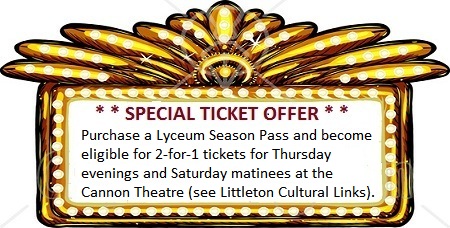 ---
Guy Van Duser and Billy Novick
Friday 6 October, 2017
7:30 pm

If you enjoy the rich legacy of the classic jazz age, be sure to come out to hear some of the most elegant and soulful music by acoustic guitarist and clarinetist Guy Van Duser and Billy Novick. This duo can play any piece from their huge repertoire - an obscure Ellington tune, a Gershwin classic, a complex Jelly Roll Morton arrangement, or perhaps one of the their originals- and immediately have it sound their own. You will be treated to a joyously entertaining and musically enchanting show that, indeed, has already stood the test of time.

Purchase tickets online.
---
Dances of India
Friday 17 November, 2017
7:30 pm

This performance will be a visually stunning and musically enthralling array of traditional and modern dance from India. It will include classical dances such as Kuchipudi, Kathak and Odissi as well as folk dances representative of the different Indian states. You will also experience Bollywood dance and a fusion dance that is a combination of eastern and western dance moves and music. Each dance piece will be very unique in form and attire, in beat and rhythm and in its grace and elegance, each piece will tell its own beautiful story.

Purchase tickets online.
---
Gerwick Puppets: Stories from Thornton Burgess
Friday 9 February, 2018
7:30 pm

The Gerwick Puppets use stories adapted from the Massachusetts author, Thornton W. Burgess, to introduce children and adults to the habits and habitats of some common New England animals. This musical show is very engaging and interactive.

Purchase tickets online.
---
Frost Heaves
Friday 9 March, 2018
7:30 pm

From the quintessential, yet fictional New England town of Frost Heaves come the Frost Heaves Players and their wry, Yankee sense of humor. Fred Marple, the unofficial spokesman for the town, relates the town's wacky adventures via music, singalongs and some surprises! The entire family will enjoy this show. Frost Heaves is co-sponsored by the Rotary Club of Littleton.


Purchase tickets online.
---
All Lyceum events begin at 7:30 pm and are held in the Littleton High School Auditorium, Littleton, MA (Directions). Click on "Ticket Information" in the navigation to learn about purchasing individual or season tickets. Tickets can now be purchased online!